In Brainerd, Minnesota, Laura and Mike Schwartzwald, along with Erin Host, go above and beyond to address the holistic needs of every patient, recognizing that refilling prescriptions for diabetes or blood pressure medication is just the starting point of their mission.

Partnering with Juniper
At the GuidePoint Pharmacy in Brainerd, Minnesota, Laura and Mike Schwartzwald and Erin Host are committed to meeting the physical, social, and emotional needs of every patient that comes through their door. For these dedicated pharmacists, refilling a diabetes or blood pressure medication prescription is only the beginning.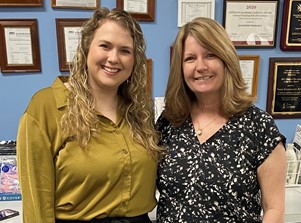 The name of the pharmacy, co-founded by Laura and Mike, reflects their passion for being a point of contact for good health. "We want to make sure the patients we serve are in the best place they can be," Laura says. "That's why we partner with Juniper. Mike and I are passionate about public health, and we're 100% committed to making a positive contribution to the health and well-being of patients and staff. It's our mission."
That mission is carried out in GuidePoint community pharmacies across the state of Minnesota.
Laura says, "We seized the opportunity to partner with Juniper because we have access to people who need Juniper, and that's how we're going to have a stronger impact. Just handing out prescriptions isn't enough to maintain healthy patient lives."
Helping people get the health they deserve
With a proactive approach to pharmacy services, the staff at GuidePoint offers additional support to patients through a partnership with Juniper. Erin Host is a clinical pharmacist on staff who leads the Juniper initiative for GuidePoint. She says, "We refer people to Juniper classes to help them meet their diet and exercise goals. Some don't have a support network to encourage good health and well-being, so we connect them with Juniper to get the support they need, and it begins with filling a prescription."
Pharmacists meet patients in the GuidePoint consultation booth, where they learn about additional steps they can take to improve their health beyond medication. Conversations begin with asking patients how they are feeling. Then the pharmacist talks about Juniper and gauges the patient's interest in Juniper classes. Erin says, "We let them know that classes are available in-person and via Zoom and that there are a lot of classes, offering flexibility to prioritize health in their daily life."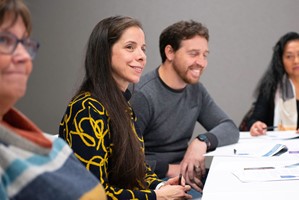 GuidePoint is no stranger to integrated pharmacy services that are the foundation for referrals to Juniper, including diabetes management, medication therapy management, cholesterol testing, immunizations, blood pressure checks and more. "We ask patients how they're feeling, provide lots of encouragement for prioritizing health in daily life, and we encourage patients to sign up for Juniper classes," says Erin. "If they're interested in learning more, we make a referral, and Juniper reaches out."
Erin recently had a discussion with a patient about her journey through diabetes and how significant weight loss eventually got her off insulin. "She asked me to help her set aggressive goals for taking good care of herself so she can hang out with her grandbabies," says Erin. "I recommended Juniper, and she chose to take a Walk with Ease class. For me, her experience reinforced why we do this work."
"If patients say they're interested in Juniper, they walk away with a brochure and a referral," says Laura. "We're excited about our ongoing relationship with Juniper and having more conversations about other opportunities because money doesn't motivate us. Caring for people does."
---
If you would like to learn more about how Juniper can help you manage diabetes and improve your overall health and well-being, visit www.yourjuniper.org.