Angela Fields is a part of the growing Juniper community health workers program that positions CHWs in community and healthcare settings to help connect people with Juniper classes and other social services. This is the first of a series of articles about Juniper CHWs.
Raised to serve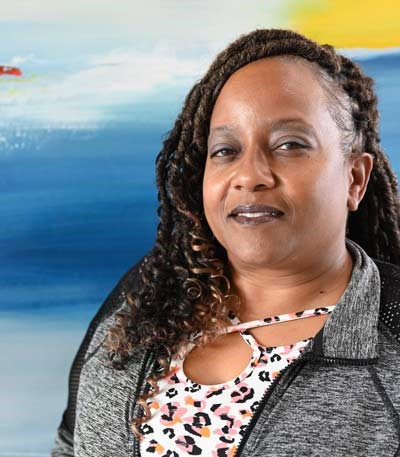 For Angela Fields, community service has always been a way of life. Her mother was a community servant and advocate who believed, "Raise children to serve and they will always know their way forward." Lovingly known as Big Barbara, Angela's mother opened her home and her heart to anyone in her community on the south side of Chicago who needed help. She provided neighbors with food, lodging and access to public aid resources. And then, she helped them fill out the required paperwork to apply for those resources. Angela says, "Everyone in the community still talks about her." And now, people are also talking about Angela.
As a Juniper community health worker, Angela carries out her mother's legacy with an innate passion for community service and concern for the health and well-being of the people she serves. "I appreciate the opportunity to bring my knowledge and experience to the CHW program," she says. "I'm excited to help older adults with the complex issues they face. We're seeing the positive outcomes of healthcare and social systems working together for a more streamlined system of care."
Angela works at Presbyterian Homes of Bloomington, focusing on connecting people within the Presbyterian Homes system with social services. She is working to build a rapport with staff and people within the community. Angela checks in one-on-one with residents and works with the wellness and fitness staff to help people register for Juniper classes and then she attends classes with residents. Angela says, "I think the work I am doing with Juniper and with other organizations is building the community health worker profession, particularly as it relates to older adults."
Making connections to social services easier
"Trellis has always been a source of reliable information for the community through thought leadership and expertise on aging," says Juniper network director, Sarah Blonigan. "Juniper is extending its reach now by providing services such as CHWs in our community." Sarah added, "When I visited the Presbyterian Homes campus, I saw that residents are drawn to Angela. I could see their trust in her. Clearly, advocacy is ingrained in Angela. She was taught as an apprentice and now she is the teacher. We're seeing real benefit in that."
Angela was introduced to the CHW program in 2008 while pursuing her degree in human services. She earned that degree and graduated from the CHW program, while also raising her family. She worked in-home health care for 17 years, with a focus on hospice before transitioning to community health. Angela spent time at Pillsbury United Communities and People Incorporated, where she helped implement a community health worker program. "I think my medical experience continues to come in handy," says Angela. "I also bring a wealth of knowledge and connections from my involvement with the Minnesota Community Health Worker Alliance."
One of Angela's stand-out skills is her ability to adapt her verbal and body language based on whom she is speaking with at the time. She says, "I'm trained on cultural awareness. I may say 'hello' to an older adult, or 'what's up' to connect with a younger person. Also, body gestures and phrases mean different things in different communities. In the black community, we speak in shorter phrases, based on codes and dialects created and spoken by our ancestors to survive slavery. And because many people are over-burdened and in a rush, there isn't time to sit down and have long conversations. Sometimes it may come across that we're hostile, but we're not."  
Angela believes community health workers have an edge over other providers. "We have a connection because we're in the community and we help serve it, so there is more trust."
Keeping people healthier
Serving the community goes beyond Angela's workday. This past summer, she fed 10 families with fresh vegetables from her garden. And Big Barbara's legacy has now reached the third generation. Angela's daughters are graduates of the CHW program. One uses her banking experience to help people understand their finances. The other, a cosmetologist and esthetician, is trained to work with complex clients, providing services to homebound people and kids with challenges.
"We are seeing the positive outcomes that can be produced when social and health systems work together. It keeps people healthier and reduces the burden on health and social systems, communities, families and individuals. If everyone is on the same page, we can be proactive instead of reactive," Angela concluded.
"I was raised to serve, so I know my way forward."