Teresa shares how Powerful Tools for Caregivers is helping her navigate her new caregiving role.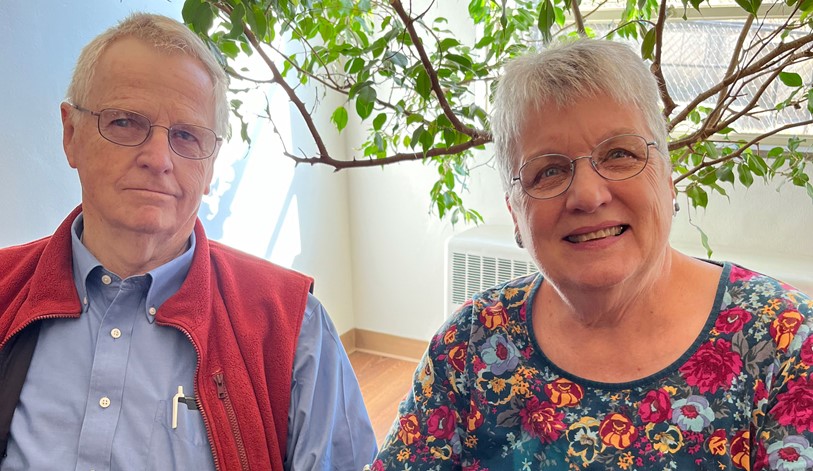 Teresa Anderson is a retired pediatrician and medical school professor who suddenly found herself doing caregiving of another kind when her husband experienced a series of unexpected medical issues. In less than a year, Robert went to the emergency room multiple times, was diagnosed with a TIA (transient ischemic attack), experienced delirium (a lack of awareness of his surroundings), brief memory loss and Parkinson's disease-like symptoms (a reversible side effect from medication). He also sustained an injury to his hip, neck and shoulder, and lost many activities of daily living, including the ability to dress himself.
After 46 years of marriage, life changed overnight and it continued to change, as Teresa advocated for a diagnosis, knowing it was possible Robert's health issues could be a result of his exposure to Agent Orange while serving as a naval officer during the Vietnam War. Teresa cared for Robert and assumed chores, errands and other responsibilities. "We used to love grocery shopping together and going to Costco, and Robert did most of the cooking," Teresa explains. "Suddenly, I was doing it all, while also being his caregiver. I was overwhelmed, and my brilliant husband felt terrible that he was unable to help or do things for himself." Fortunately, help was on the way.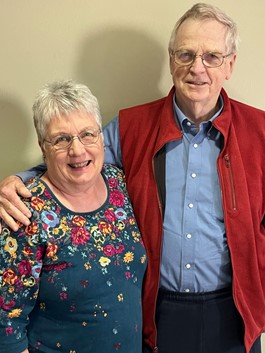 Scrolling through Facebook one day, Teresa found Juniper's Powerful Tools for Caregivers class in her feed. The timing of the post was so spot on that she checked with friends to see if they had sent it to her. They hadn't. "How cool is that?" she says. "I had never heard of Juniper, and it appeared at a time when I was looking for support."
Teresa enrolled in a virtual class without hesitation. "I liked that it's an evidence-based class, and it was perfect because I didn't have to worry about leaving Robert to go to class." Teresa reports that the class helped her make a paradigm shift to focusing on self-care. "I realize that caregivers neglect themselves, but without caring for yourself, you can't care for the person you love. The class and the support of others within it helped me realize that I can't go 120 miles per hour for the rest of my life."
Teresa found support in her Powerful Tools for Caregivers class
Teresa names several benefits of the Powerful Tools for Caregivers class. She mentions the workbook and the checklists that fit her style, but she is quick to draw attention to the action plan. "The plan required me to come up with one thing I would commit to doing for myself that week, like taking a walk," she explains. "Then I had to write down when I was going to do it, and how often. Writing the plan was very beneficial to me because there's something about putting things in writing that makes it more official."
One week later when class reconvened, no one had achieved their goal, opening the door to a group discussion about barriers. According to Teresa, this is when the magic happened. "People shared their plans if they were comfortable doing so, and we talked about why we didn't accomplish what was on our checklist," she says. "Hearing how people processed the list was very helpful to me and helped me decide what would work for me. It was amazing doing the plan because it focused on a small bite and helped me focus on something important."
Learning to deal with negative thoughts was also helpful to Teresa. "First of all, you should give yourself credit for what you're doing. Several of my classmates have friends and family telling them they're not doing enough. In the class, we learned skills to combat the negative, including writing down our self-defeating thoughts and replacing them with positive thoughts. I also liked the guided muscle relaxation exercises."
Teresa doesn't deny that the class is a lot of work, but she believes it's worth it. "You're working on yourself with the support of your classmates and facilitators. I learned skills, and I was also reminded that I'm not alone. As a caregiver, it's so important to have support. This class and the other caregivers within it were encouraging to me."
The value of caring for yourself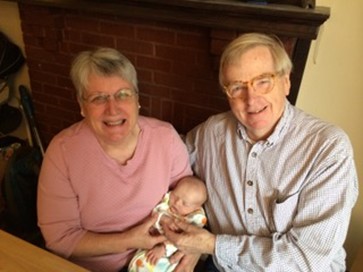 Speaking candidly, Teresa says it's hard being a caregiver. "Navigating the system is difficult for me, and I have a medical background, so it must be very difficult for people who don't have the knowledge and support I have," she says. "I encourage other caregivers to write down their questions for medical appointments, attend them with their loved ones and don't be afraid to ask for clarification." She adds, "Be gentle with yourself. It's okay to eat canned soup, and it's okay if the bathroom isn't as clean as it used to be."
With a positive attitude, physical therapy and a sense of humor, Robert has greatly improved over the past few months. His most recent MRI showed areas of narrowing of the spinal canal, though no surgery is needed at this time. Teresa knows there may be rough days ahead, but it doesn't feel as daunting because she knows she has the tools she needs to care for Robert and for herself. The medical professor in Teresa will continue to teach herself what works for her while drawing from the teachings of her Juniper class. "I no longer try to do it all," Teresa says. "I'm advocating for Robert, and I also have to advocate for myself."
"I no longer try to do it all. I care for my husband, and I care for myself."
Teresa Anderson, Powerful Tools for Caregivers participant
Juniper's Powerful Tools for Caregivers class is for anyone who is a caregiver for older adults with long-term health conditions. It is particularly suited for people who would like to: 
Develop skills and confidence to better care for yourself while caring for others 
Engage in weekly topics ranging from reducing your stress to communicating in challenging situations and mastering caregiving decisions  
If you would like to find out how you can benefit from the Powerful Tools for Caregivers class, click here to be directed to the class page.