A group exercise class for people with arthritis who want to learn safe ways to stay active, reduce pain and move more easily.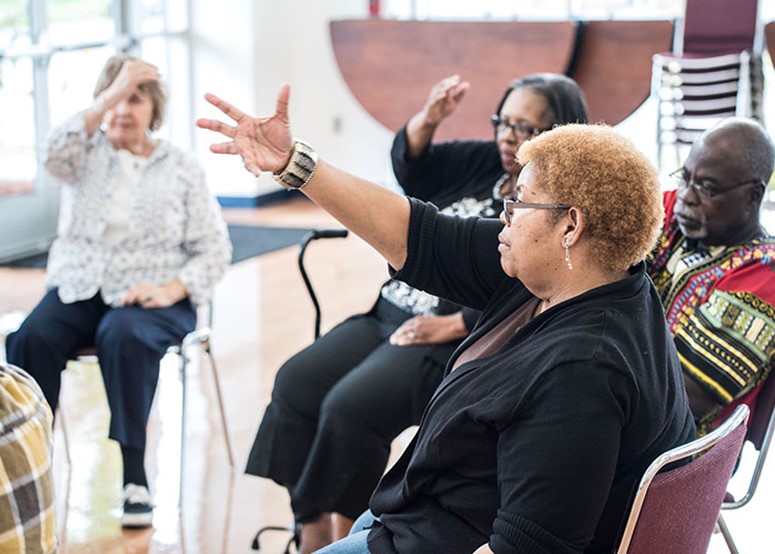 About the class
This eight-week class meets twice a week for one hour. This class is a community-based, low impact, recreational exercise program. You'll: 
Practice

 

stretching, breathing, and balance 

Control body pain

 

Learn techniques for boosting energy and mood

 

Learn ways to keep from falling when out in your community

 

Increase confidence about staying active and managing arthritis 

 
Arthritis Foundation Exercise Program® is an evidence-based program developed by the Arthritis Foundation in partnership with a multidisciplinary team. Also known as People with Arthritis Can Exercise (PACE). 
"I have much more energy because of this class. It's helped me re-engage in life!"
— Arthritis Foundation Exercise Program Participant
Benefits of the class
Experience less pain 

 

Improve joint function and increase muscular strength

 

Increase overall sense of well-being and improve quality of life

 

Provide support and encouragement to your peers

 

Become more involved in your community and with your neighbors
Who should take the class
This class is for anyone living with an arthritis diagnosis who is interested in becoming more physically active. It is particularly suited for people who: 
Have a diagnosis of rheumatoid or osteoarthritis 

 

Suffer from stiffness, fatigue, or arthritis pain

 

Could benefit from increased physical activity

 

Feel isolated, lonely, or depressed  

 
All Juniper Classes
Prevent Falls
Get Fit
Live Well